Making the most efficient use of our most in-demand public spaces is at the core of curbside management, making it top of mind for most parking operators. But the challenges of today's curb, whether it's a downtown area, university campus, or busy sidewalk are fundamentally different compared to even a few years ago. What can we do to ensure efficient, equitable, and practical curbside access when customer behaviors and technology are constantly changing? 
In our webinar Paving the Way to a Digital Curb, we discuss how digital solutions like ParkMobile can empower parking operators to keep up with the needs of modern curbside management. ParkMobile's David Hoyt (CRO) sits down with Brent Matthews, CAPP and Director of Parking and Special Projects at Chattanooga Parking Authority to talk about digital curbside management both on a high level and how it's already being used today. 
Here are some of the highlights of their discussion: 
Digital Transformation Has Upended Curbside Use 
More people and businesses want access to the curb than ever before. Add in more rideshare and mobility solutions, couriers, and online delivery services, and that means a lot of competition for not a lot of space. And all of that has to be balanced with the day-to-day needs for residents, emergency services, and public transportation. Static curbside management strategies that rely on signage to communicate policy are getting overwhelmed. In short, proactively maintaining equitable curbside access is nearly impossible without a modern digital parking and mobility solution.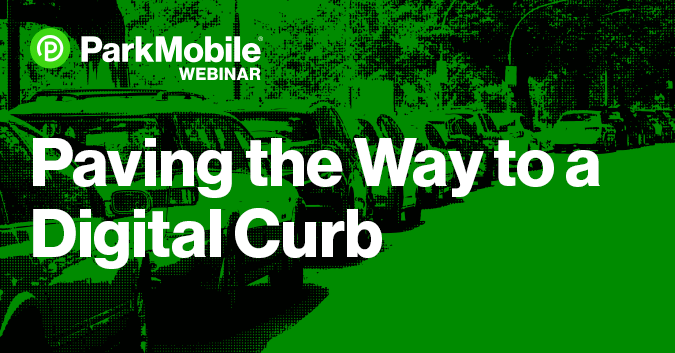 Digital Parking Solutions Lead to Better Visibility and Policy 
David points out that one of the main disadvantages of a static, non-digitized curb is the lack of real-time visibility, which can be a major obstacle for making efficient and equitable curbside policy decisions. Brent agrees, noting that even after doing a study of the Chattanooga parking program in 2018, many of the recommendations were already outdated only four years later. Digitizing the curb offers a huge advantage because it gives an accurate, real-time picture of parking inventory and how it's currently being used. To make this a reality, Chattanooga has partnered with ParkMobile in a novel pilot program to map their curbside needs. David detailed the ways parking data is being used to create a unified, real-time view of parking inventory, occupancy, and availability. 
 Using Digital Parking to Reduce Congestion and Better Utilize Inventory 
David and Brent also talk in-depth about the various ways digital parking solutions are being used to better utilize parking inventory and help people find parking faster. In Chattanooga, David and Brent show how ParkMobile's integrations with PARCs along with features like the ability to reserve in advance are having big impacts on congestion and off-street inventory utilization. Especially around events and high-demand times, Brent noticed that paying by phone helped significantly speed up lines into garages.  
Another way that Chattanooga is using digital parking to reduce congestion and improve curbside access is through parking availability maps. This feature is helping app users find and navigate to open spaces, as well as find amenities like EV charging stations.  
Curbside Management Isn't Just for the Street 
While most people think of curbside management as a way to keep traffic moving on the street, sidewalks also can't be overlooked. Sidewalks are no longer just for pedestrians, but share valuable space with bicycles, scooters, outdoor expansion zones (a.k.a. "streateries"), and more. COVID-19 only made sidewalk access more valuable as outdoor activities and bike and scooter shares got more popular. Chattanooga recently started the "SPROUT" program to extend access to parking and loading zones to local businesses like restaurants. Brent notes the challenges in managing the sidewalk, noting that popularity and usage is constantly in flux. However, even as traffic returns to pre-COVID levels, both Brent and David anticipate that more cities will be trying to find ways to efficiently monetize and manage these areas. 
Ready to Find Out More? 
One of the biggest takeaways from the conversation is that there's much more coming in the world of digital curbside management. Already there are plans for B2B and fleet offerings, smart hubs for parking data, dynamic pricing, and more. To hear the full conversation and learn more about the benefits of digital curbside management, you can check out the full recording here. You can also read our full white paper on curbside management here.