To stay ahead of emerging trends, we always have our ear to the ground to understand what's coming next. That's why we're constantly collecting feedback from customers and collaborating with clients to understand their most pressing challenges. Until recently, we've mostly been limited to sharing insights on a local scale. But in 2021, ParkMobile merged with EasyPark, a leading innovator in parking in Europe, opening up an opportunity to collaborate on a global scale.  
In our April webinar Global Perspectives on Digital Parking: Trends and Technologies to Watch, we go into the benefits of our new partnership and share insights into the biggest parking industry trends. David Hoyt (CRO, ParkMobile) and Martin Sandström (Head of Business Development, EasyPark) lead a lively discussion that touches on new business models in Europe, the possibilities of parking data, EV infrastructure, and more.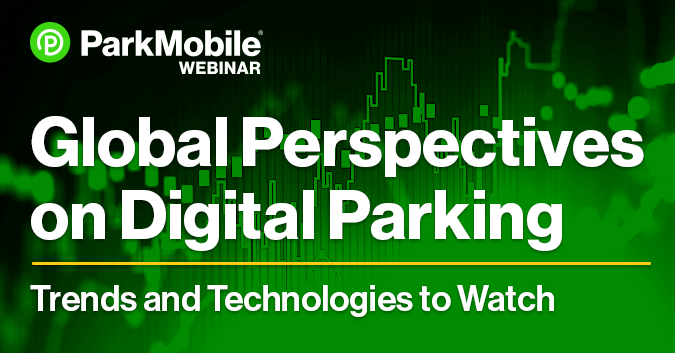 Here are a few of the biggest insights we learned: 
An Increased Focus on Customer Choice 
Not long ago, digital parking solutions were little more than an alternate payment method. Now, the industry has matured with a wide variety of value-added features and services. But that growth, along with the rising use of connected experiences in general, is changing customer expectations worldwide. Customers don't just want to use a mobile payment option, they want to use their preferred payment option.   
In Europe, where there are more qualified digital parking providers, Martin explained how the demand for customer choice has led many cities to adopt an "open market" approach.  Rather than dictating pricing, the open market approach allows the qualified providers to set their end-user pricing which lets the consumer choose their preferred provider. This has allowed cities to break away from strict procurement contracts to instead offer a variety of different apps (all of which must meet standards the city sets) and has driven innovation by the leading digital payment providers.  
The model is rising in popularity, and Martin shared the various ways it benefits both the consumer and parking operations without adding complexity. Martin cites London, which does not use the open market model, as an example of how rigid business models can hurt consumers. There, each borough (district) requires a different parking app, creating a poor customer experience and much more backend complexity for the city as a whole.  
In the US, where the digital parking industry is less mature, there's more demand for innovative features and services. The need for more choice has translated into developing various non-app payment options. For instance, recent innovation allows users the ability to pay for parking on ParkMobile via SMS text, QR code, web browser, or 3rd party payment options like Google.  
Regardless of the specific approach, providing customers more features and services, not a lower price, is essential for driving adoption of digital parking solutions. 
The Growing Need for Parking Data 
Parking is starting to join the many industries that are leveraging data to increase efficiency and make better decisions. As a result, there's a growing need around the world for Parking Data as a Service (PDaaS), which helps cities unify, visualize, and analyze the data from their various parking apps and services. The ability to access real-time data on parking inventory, transactions, and more is already providing a multitude of benefits to cities. Martin showed how several cities in Europe are already harnessing PDaaS to find long-term solutions to their biggest parking problems. While this capability is still in early days stateside, David detailed how ParkMobile is already rolling out PDaaS in Chattanooga with plans to expand to more locations in the near future. 
Combining Parking With EV Charging 
Recently, there has been a lot of talk surrounding the challenges of planning and implementing EV charging infrastructure as more automakers ramp up production of electric vehicles. Martin noted that EasyPark was lucky to work in Norway, which has already come a long way in their use of electric vehicles and infrastructure. What they have learned there, and in other cities, is that it's important to connect EV charging with the overall parking and mobility ecosystem. Practically, this makes it so charging stations are not being blocked by idling cars or placed in areas that would increase congestion. EV charging was another area where David and Martin discussed the value of PDaaS and data-driven decision-making. With real-time visibility into parking demand and usage, city planners can get more return on their infrastructure investments by having better insights on where EV charging stations will be most effective.  
Want to hear more? 
David and Martin had a lot more to say about the latest global trends in parking, including a wealth of real world use cases. To listen to their full discussion, check out the full recording here or take a look at our article in the Parking Today magazine (page 22). Also, come see us present on this topic at NPA's 2022 Convention & Expo in Austin TX, on Monday September 19 from 4-5 PM.