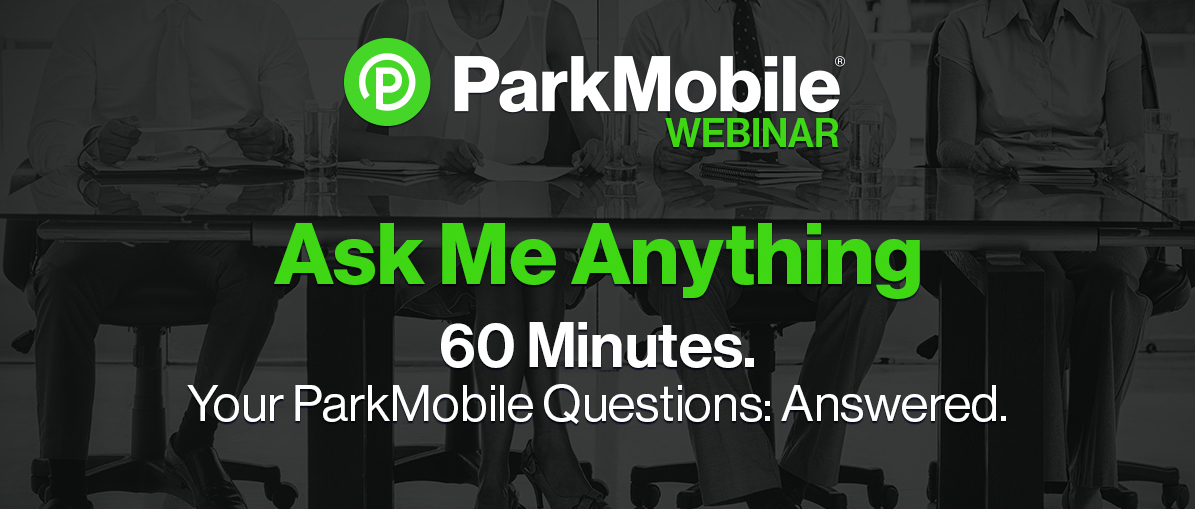 As the leading parking solution in the US, ParkMobile has successfully transformed parking for thousands of providers. With 25 million users and growing, we continue to innovate and learn best practices to deliver modern, user-friendly parking.
If there was ever a year that shook up the parking industry as a whole, it was 2020. While most people are familiar with ParkMobile's best-in-class mobile payment solution, many of you are wondering about our other parking solutions, industry trends, and most importantly, what's next?
In our webinar Ask Us Anything, we gathered together ParkMobile's top minds to answer your most pressing questions, including:
– Jon Ziglar: CEO, ParkMobile
– John Brown: COO, ParkMobile
– Brooke Feldman: VP Account Management, ParkMobile
– Dave Hoyt: CRO, ParkMobile
During the hour-long session, we got a ton of fantastic questions. Here are a few of the standouts:
Question: What trends did ParkMobile notice during the pandemic?
Answered By: Jon Ziglar
It is obvious to say that COVID-19 had wide effects across the parking industry in general, including most obviously a massive downturn in transactions in the early months. Luckily, numbers are slowly returning to normal. Better yet, responding to these extreme challenges also created a lot of positive change that will outlast the pandemic itself. First, many cities without any mobile payment options or with limited mobile payment capability managed to successfully roll out new solutions in a short amount of time. This was spurred in large part due to a wide increase in public adoption of mobile payment in general, a trend that is likely to continue as time goes on. In some areas, we saw ParkMobile go from handling 50 or 60% of parking transactions to upwards of 90%.
Question: What are your recommendations for cities trying to boost mobile payment adoption?
Answered By: Brooke Feldman
Brooke emphasized that two important factors that work in concert to drive up mobile payment adoption are:
An emphasis on improving the customer experience
While many mobile payment solutions started simply as a way to pay, long-term adoption is driven by services that go above and beyond to improve the customer experience. This is why ParkMobile has put extra effort into popular features like wayfinding, push notifications, parking availability, and more. By adding extra value to the parking experience, you help drive adoption by giving users a mobile payment option they're actually excited to use.
Implementing an effective marketing strategy
Data has shown that marketing campaigns, both at launch and beyond, are crucial to keeping mobile payment at the forefront of people's minds. Over the years, ParkMobile has developed a marketing toolkit including email campaigns, in-app messaging, signage, and more to ensure our partner's rollouts make a splash.
Question 3: What is the implementation process like with ParkMobile and what support do you provide?
Answered By: John Brown
One thing that sets ParkMobile apart is our collaborative, streamlined approach to implementation. Every client is assigned an individual Account Manager who guides them through the process step by step. To give a simplified overview of the process itself, there are roughly four goals we look to accomplish in the first 3-4 weeks:
● Determine Zone and Rate Structure: We help identify locations, prices, and any other relevant information ParkMobile needs.
● Signage and Stickers: We order all of the physical signage and stickers you need in your branding, with proper zone numbers and relevant information printed and ready.
● Enforcement Integration and Training: ParkMobile integrates with almost every enforcement system used in the U.S., so we ensure the system is working as expected and help train your enforcement team in its use.
● Set Up Merchant Account: We help set up your merchant account, either with ParkMobile as the Merchant of Record or with an existing MoR.
Beyond the technical implementation, ParkMobile also ensures the rollout goes smoothly with effective marketing support.
Question: What are some things to consider if you want to go mobile-only?
Answered By: Dave Hoyt
ParkMobile has extensive experience working with clients who've transitioned to mobile-only, a hybrid of mobile-only areas and pay stations, and many scenarios in between. A flexible, collaborative approach is key to making a mobile payment rollout impactful and, most importantly, to doing it in a way that aligns with the client's long-term parking journey.
In addition to an effective marketing strategy, accessibility is also a vital consideration for cities looking to move away from on-street meters and pay stations. As payment goes online, ParkMobile has recognized the need to give customers as many payment options as possible, even if they're not in the app itself, to make the overall parking experience as simple and easy as possible.
Want to hear more? To watch the panel in its entirety, click here to access the webinar on-demand.
These are only a small sampling of some of the wonderful questions we received. Other topics included:
● How ParkMobile handles parking for gated and non-gated areas
● Using ParkMobile 360 for managing policies and reporting
● How ParkMobile can help customers enhance curbside management
● The future of smart cities and best practices
● And more…