ParkMobile is now available at Alerus Center, North Dakota's largest convention and meeting center, marking the parking app's first time in the state.
Grand Forks, ND – January 11, 2023 – ParkMobile, the #1 parking app in the U.S., is partnering with Alerus Center, Grand Fork's premier entertainment and convention facility and part of the Oak View Group, to offer parking for events. The venue is home to the University of North Dakota football team and hosts regular concerts and events. Guests are now able to prepay for parking at 1,700 spots in nearby parking lots in advance of visiting the Center, guaranteeing a parking spot prior to arrival. Guests can prepay for parking via the ParkMobile app or the reservation site here.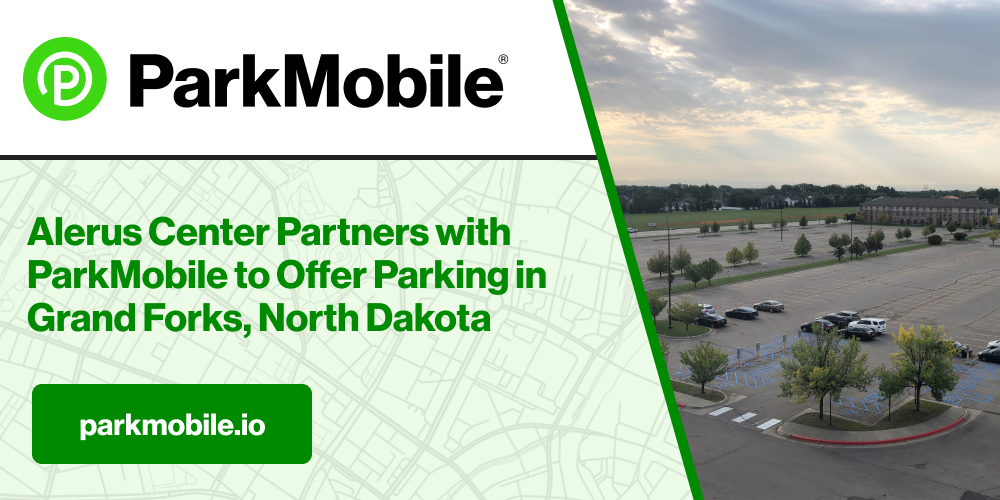 "This is a new feature for our guests, and we are confident that ParkMobile's quick and easy-to-use platform will win them over," said Alerus Center General Manager Anna Rosburg. "Now, guests are able to prepay for parking before visiting Alerus Center, which we hope will improve the guest experience by reducing wait times and minimizing stress for our guests and for our parking crews."
"This is a new feature for our guests, and we are confident that ParkMobile's quick and easy-to-use platform will win them over"
This is one of the first ParkMobile partnerships in North Dakota, although the app has over 43 million users nationwide. The parking app is available for both iPhone and Android devices and can also be accessed on a mobile web browser.
Prepaying for a parking space is quick and easy. A user can go to the venue's reservation site to view a full list of upcoming events with all the available parking options. A user searches for the event venue in the ParkMobile app or website and selects the event they want to park for. After the user confirms the purchase, it can be redeemed at the location using a mobile pass in the ParkMobile app, Apple Wallet, or a printed permit.
"We are thrilled to officially be live in North Dakota as we strive to expand our reach across the country. We look forward to introducing residents to the ParkMobile app," added David Hoyt, Chief Revenue Officer and Managing Director for ParkMobile. "By offering ParkMobile at Alerus Center, guests will be able to enter  the facilities more seamlessly."
About ParkMobile: ParkMobile, LLC is the leading provider of smart parking and mobility solutions in North America, using a contactless approach to help millions of people easily find, reserve, and pay for parking on their mobile devices. In 2021, ParkMobile became part of the Swedish-based EasyPark Group. The company's technology is used in thousands of locations across the country, including 8 of the top 10 cities as well as college campuses, airports, and stadiums. People can use ParkMobile solutions to quickly pay for on-street and off-street parking without having to use a meter or kiosk. Additionally, ParkMobile offers parking reservations at stadium venues for concerts and sporting events. Reservations are also available in metro area garages, allowing people to drive into the city without having to worry about finding parking. ParkMobile has been named to the Inc. 5000, Deloitte Fast 500, Smart Cities Connect "Smart 50," and the Atlanta Journal Constitution's Top Workplaces. Additionally, the company won the 2020 Stevie Awards for Achievement in Product Innovation and the 2019 Stevie Awards for Most Innovative Tech Company and Best Travel App. For more information, visit ParkMobile.io or @ParkMobile on Twitter.
ParkMobile Contact: Mark Lister, SVP of Marketing, mark.lister@parkmobile.io
Alerus Center Contact: Toryn Jones, Director of Marketing, Toryn.Jones@oakviewgroup.com