ParkMobile will now provide their contactless payment options at 85 spaces throughout Downtown Bay City
BAY CITY, MI – MARCH 31, 2023 – ParkMobile, the leading provider of smart parking and mobility solutions in North America and part of EasyPark Group, is launching its digital parking solution in Downtown Bay City. Through the ParkMobile app, users will be able to pay for on-demand parking at 85 parking spaces in Downtown beginning Monday, April 3rd.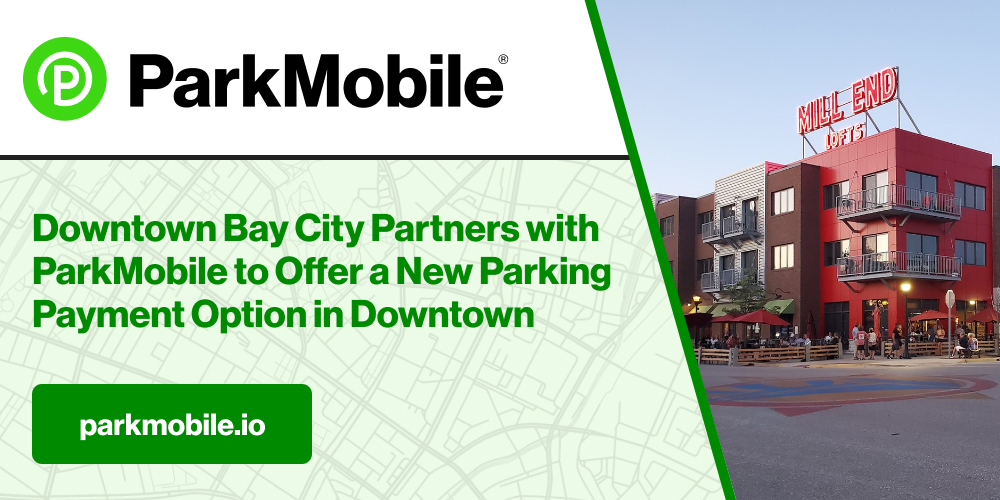 The Bay City Downtown Development Authority was instructed to end paid parking at the beginning of the COVID-19 pandemic in March of 2020. The DDA is excited to be working with IPS Group, Inc. and ParkMobile for parking enforcement in our four parking lots located at Saginaw St./5th St., Jennison Lot, Washington Ave./6th St. and Center Ave./Adams St. Visitors to Downtown Bay City will have the option of short-term parking for $1/hour and $5/day, and yearly parking permits can also be purchased from the DDA at 901 Saginaw St. Profits from Downtown parking will go towards parking lot and parking structure maintenance including resurfacing and restriping, snow removal, and lot upkeep. Parking lot maintenance minimizes asphalt corrosion, reduces vehicle mishaps, and keeps drivers safe.
"We're thrilled to partner with Bay City to provide our easy-to-use technology."
ParkMobile is available throughout Michigan with 921,687 users. ParkMobile can also be found nearby at Saginaw Valley State University. The app is available in over 550 cities nationwide, including Atlanta, GA, Boston, MA, Dallas, TX, Philadelphia, PA, and Washington, DC.
ParkMobile has over 41 million users across North America, is available for both iPhone and Android devices, or can also be accessed on a mobile web browser via QR code or text message. To pay for parking using the mobile or web app, a user enters the zone number posted on signs around the parking spot, selects the amount of time needed, and touches the "Start Parking" button to begin the session. The user can also extend the time of the parking session on their mobile device.
ParkMobile's Managing Director, David Hoyt, said, "We're thrilled to partner with Bay City to provide our easy-to-use technology. The ParkMobile app will allow downtown residents and visitors a seamless parking experience to easily pay for parking right on their phone."
About ParkMobile
ParkMobile, LLC is the leading provider of smart parking and mobility solutions in North America and part of the global parking tech company, EasyPark Group. With the vision to make cities more livable, EasyPark Group owns and develops the apps EasyPark, PARK NOW, ParkMobile, RingGo and Park-line, and operates in over 3,200 cities across more than 20 countries. ParkMobile offers digital solutions to quickly find and pay for on-street and off-street parking via a mobile device. The company also offers parking reservations at stadiums, venues, and metro area garages. ParkMobile's technology is used in thousands of locations across the U.S., including 8 of the top 10 cities, as well as college campuses and airports. ParkMobile has been named to the Atlanta Business Chronicle's Pacesetter Award list, the Atlanta Journal Constitution's Top Workplaces and won the 2022 Stevie Awards for Best Mobile On-Demand Application. Visit ParkMobile.io or @ParkMobile on Twitter for the latest news and information. For EasyPark Group news, visit easyparkgroup.com.
ParkMobile Contact: Haley Haas, PR Manager North America, haley.haas@parkmobile.io
Downtown Development Authority Contact: Michael Bacigalupo, DDA Director, mike@downtownbaycity.com