Located at 700 Clark Avenue in St. Louis, Missouri, Busch Stadium is home to the MLB's St. Louis Cardinals. Opened in 2006, the stadium has an impressive capacity of 46,000 seats and boasts a unique design that pays homage to the team's incredible history.
Whether you're coming for a game, a concert, or something else, you'll want to check out the surrounding area as well, since St. Louis has plenty to offer. Below, we'll fill you in on everything you need to know when you're visiting Busch Stadium.
Hotels Near Busch Stadium
St. Louis boasts a wide variety of hotels, and there are several in the downtown area that are conveniently located near Busch Stadium. Here are a few popular options that will guarantee you wake up right next to the action.
| | | | |
| --- | --- | --- | --- |
| Hotel | Address | Distance | Price |
| The Westin St. Louis | 811 Spruce Street | 0.13 miles | $347 |
| Magnolia Hotel St. Louis | 421 North 8th Street | 0.52 miles | $237 |
| Embassy Suites by Hilton St. Louis Downtown | 610 North 7th Street | 0.59 miles | $204 |
| Marriott St. Louis Grand | 800 Washington Avenue | 0.55 miles | $178 |
| Le Méridien St. Louis Downtown | 1019 Pine Street | 0.45 miles | $245 |
| Live! by Loews – St. Louis | 799 Clark Street | 0.10 miles | $229 |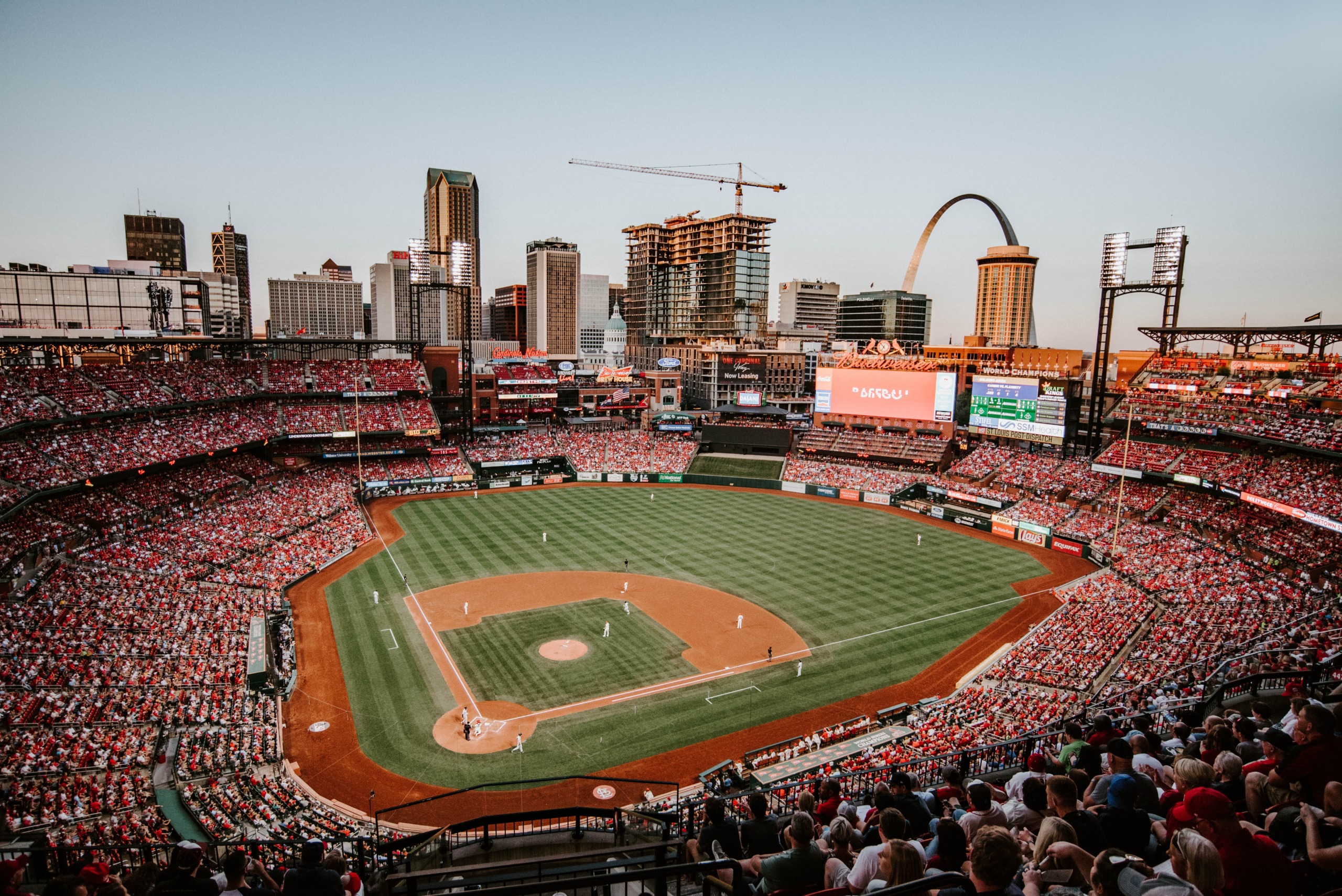 Where do you park for Busch Stadium?
Finding affordable parking near Busch Stadium won't be difficult. There are plenty of garages and lots in the surrounding area that won't cost you an arm and a leg. Here are a few locations we recommend:
| | | | |
| --- | --- | --- | --- |
| Garage | Address | Distance to Stadium | Price |
| 620 Market Street | 620 Market Street | 0.17 miles | $28 |
| Cupples Garage | 421 S 10th Street | 0.23 miles | $23 |
| Justice Center Garage | 1115 Clark Avenue | 0.34 miles | $12 |
| City Hall Lot | 1201 Clark Avenue | 0.44 miles | $23 |
| Shoe Lot | 1300 Spruce Street | 0.48 miles | $11 |
Keep in mind these lots can fill up fast on gameday, which is why it's a good idea to book your parking spot in advance. Whether you're seeing the St. Louis Cardinals play or just catching an event at Busch Stadium, ParkMobile can help you reserve parking before you get there.
Restaurants and Bars
You won't have any trouble finding a place to grab a bite or drink in the area around Busch Stadium — in fact, you might have trouble choosing among all the options! To make things easier, we've brought together a few popular options below.
Museums and Parks
Because Busch Stadium is conveniently located in the downtown area, you'll have easy access to a number awesome museums and parks that you can check out before the game, including:
Cardinals Hall of Fame and Museum. The St. Louis Cardinals are one of the most storied institutions in baseball, and you can experience that history firsthand at the Cardinals Hall of Fame and Museum. Featuring artifacts and memorabilia and seven galleries, the museum is jam packed with exciting history.
Located between Eighth, Tenth, Market, and Chestnut Streets, this beautiful and serene urban sculpture offers interactive art, fountains, gardens, and an overall kid-friendly experience.
The Gateway Arch. This world-famous monument is a can't-miss experience. Take a tram ride up to the top of the arch, or spend a few relaxing hours in the park that surrounds the arch's base.
National Blues Museum. A unique museum dedicated to preserving the history and impact of Blues music, the National Blues Museum is a music lover's dream.
Busch Stadium: Events and Stadium Rules
Like most MLB stadiums, Busch Stadium has a number of important rules you'll want to be aware of before you show up. More information can be found on the stadium's official site, but here are a few things to keep in mind:
Guests can bring in items like purchase, bags, and soft-sided coolers that aren't larger than 10 in x 10 in x 8in.
Guests can also bring in some food and non-alcoholic beverages in factory-sealed plastic bottles.
Tailgating isn't allowed in Busch Stadium's official parking lots, but Ballpark Village offers an incredible pre-game environment.
From soccer matches to movie nights to musical concerts from world-famous artists, Busch Stadium offers a wide variety of entertainment events all year round. For a full list of upcoming events, visit the stadium's official calendar.
What to know about Parking Near Busch Stadium
If you're planning on parking near Busch Stadium, there are a few things you'll want to know. Busch Stadium offers an official parking lot at Ballpark Village that's pretty convenient. Located at 601 Clark Avenue, the official lot has a price range of between $5 and $50.
The stadium's official lot only boasts 720 slots, so you'll need to show up early to grab a space. That's true wherever you plan on parking. If you're looking to grab a spot in the official lot, or find a free street parking spot, we'd recommend showing up 1-2 hours before the game to start your search.
If that sounds like a hassle to you, then you might want to think about pre-paying and reserving a parking spot online. The ParkMobile app can help take the stress out of finding a parking spot on game day.  — and the price — that's right for you.  We'll help you find spot  — and the price — that's right for you.