Originally published in the July 2021 edition of NPA's Parking Magazine
Colleges and universities consistently champion innovation and new technologies to find ambitious solutions to age-old problems. Lately, many institutions have sought to reform parking and transportation to provide consumer choice and meet sustainability goals. Subsequently, a number of universities are considering modern alternatives to long-term permits and other embedded parking models. However, the challenging realities of managing parking in what is effectively a self-contained city have often held these efforts back.
As we sprint into 2021, campuses now have a window of opportunity to enact changes that both solve temporary setbacks and prepare for a post-pandemic world. Intelligent rollouts of modern parking payment solutions have opened a significant opportunity for universities to create a better parking experience as we move into the future.
Strains in Long-Term Permit Parking Systems
Parking at universities has always been full of unique challenges. The parking requirements and day-to-day needs of students, faculty, support staff, and visitors are all vastly different.
Until recently, semester or annual permits made up an important revenue stream, which all but evaporated with the transition to remote learning. Undoubtedly, the pandemic accelerated the adoption of more flexible, contactless parking payment systems as universities scrambled to adapt. However, even before 2020, university parking operators largely recognized the need to change up their parking models.
Logistical challenges were inevitable with numerous permit types with different requirements, all needing specific enforcement. But the pandemic further highlighted many pain points and blind spots. Large numbers of spaces in permit-only lots and garages are underutilized. Now, with remote learning and varied class schedules the traditional long-term permit no longer makes sense for many members of the campus community.
The all-you-can-eat parking ethos created by long-term permits is butting heads with wider sustainability initiatives. The need for more consumer choice is also evident as the realities of campus life change with a rise in remote work and remote learning. This has left many universities with a dilemma. How do you generate parking income while simultaneously promoting public transportation and reducing the number of single-occupancy vehicles on campus? Even after we return to in-person learning and relatively "normal" conditions, this overarching concern will remain.
Perhaps most importantly, the use of long-term permits is losing ground as consumer parking behavior and expectations change. Universities without flexible, on-demand parking options are potentially missing out on additional revenue from the more tech-savvy consumers who prefer them.
Providing More Flexibility, Choice, and Ease with a Daily Decision Model
Long-term parking models ask people not when and how they want to park on campus, but if they want the ability to park at all. Modern contactless parking changes that by giving parkers the power to make daily decisions.
Controlled flexible daily options have the potential to streamline operations and create new revenue streams, while simultaneously offering users more ease-of-use, choice, and convenience. Implemented correctly, a daily decision model allows universities to be more agile in the face of unpredictable changes. But beyond that, daily decision parking also provides an overall better parking experience on campus, creating a win-win for the school and the consumer.
A fully digital daily decision model or a hybrid model provides several immediate benefits:
Equitable Parking and More Choice: The financial burden of long-term permits makes parking inaccessible for many students and staff. Pay-as-you-go pricing gives many of these customers another way to get on campus. It also opens up more parking choices that work for anyone, regardless of their finances or the amount of time they spend on campus.
Personalization and Pricing Flexibility: Digital payment solutions give you a centralized way to control pricing. For instance, you could provide special pricing to specific groups based on their email address or license plate number.
More Control of Physical Spaces: Permits tend to be either overused or underused. This leads to many permit-only lots and garages being underutilized overall. A transition to daily decision parking opens up spaces on campus to be used more effectively. Features like maps and real-time parking availability can also lower congestion on campus and ease confusion for newcomers.
Additional Revenue Streams: More flexibility to control when and how people park opens up possibilities for new revenue streams. For instance, allowing for additional visitor parking during sporting events, discounted rates, or reserved parking spaces.
While the full potential of flexible daily decision parking is yet to be fully realized, universities are already seeing the benefits. What started for many as a way to address the immediate needs of a pandemic is turning into a viable long-term strategy to future-proof campus parking.
Seizing Opportunities to Innovate During a Crisis
Virtually overnight, the pandemic significantly lessened the need for long-term permits. For many universities, the crisis offered an opportunity to innovate whether they were ready or not. Campuses across the country looked to contactless parking systems to successfully roll out new daily parking options.
Daily decision parking options have been enthusiastically received by students, faculty, and staff. Several factors made such a successful transition possible:
Flexible Mobile Payment Vendors: Universities that found the most success worked with mobile payment vendors who were flexible enough to adapt to change without disrupting the whole parking system. With so much uncertainty yet to come, it's important to partner with vendors who can help with both short-term needs and support long-term initiatives.
Low Capital Expense: Mobile parking solutions require no new hardware investment, which both minimized risk and streamlined setup. Also, because they can integrate with existing enforcement and other backend systems, it minimizes complexity.
Popularity of Contactless Payment: By and large, contactless payment was gaining widespread popularity before the pandemic.
Like remote work and other cultural shifts in the pandemic, mobile payment and daily parking are proving advantageous in the long term. Our surveys have shown that once users employ a mobile app for parking, they generally prefer it to traditional methods.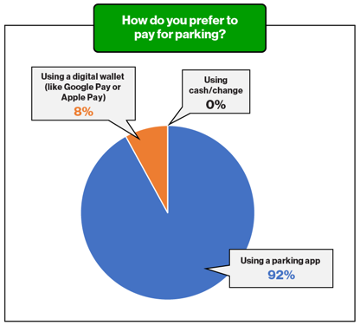 The Future Is Uncertain – And Full of Potential
Practically speaking, the specifics of launching a daily decision option will vary drastically between institutions. Whether it's a hybrid or fully daily decision model, however, mobile payment will undoubtedly factor into any successful parking system. Some universities have considered making parking more equitable by offering free parking by including it in university fees. But this does little to solve the underlying challenges of university parking or encourage the use of alternate, more sustainable transportation.
Daily decision parking powered by best-in-class mobile payment vendors gives campuses a practical solution to get ready for what comes next. The pandemic has proven that these systems are easy to implement and flexible enough to adapt over time.
While we can't predict what's coming in 2021, we are confident about one thing: the post-pandemic "normal" will not resemble the "normal" of past years. To meet these challenges, universities must be willing to let their parking systems evolve. But by working with technology partners who want to take that journey with you, you'll be ready.