With more and more customers preferring the convenience of digital solutions like ParkMobile, it's more important than ever to ensure modern parking services are accessible and inclusive. But what exactly does that mean in the world of parking today? What are some of the biggest challenges facing digital parking users and how can we address them?
In our July webinar, Leveling the Playing Field: How Digital Parking Solutions Are Rethinking Equity and Inclusion we shed some light on the latest trends shaping equitable parking. ParkMobile's Kara Womack (VP Product) and Brooke Feldman (VP Account Management) went in-depth on common barriers to entry for modern parking solutions, illuminating facts and statistics on consumer needs and preferences, and the innovations and features that are helping tackle these challenges.
These were some of the crucial takeaways from their discussion:
The Meaning of "Parking Accessibility" Has Evolved
For many years, accessibility in parking referred mostly to creating physical parking spaces that meet ADA guidelines. While that's still important, "accessibility" has evolved, both legally with updates to the ADA and in the methodology of digital solution providers. With more consumers relying on digital experiences, it's essential to ensure equitable access for both physical and digital parking services. But Brooke was quick to point out that a digital solution that meets accessibility standards isn't automatically inclusive by default. 
Later, Kara explained how a wider understanding of the barriers that prevent access to modern parking solutions beyond physical disability can help us meet more customers where they are. These include customers who are underbanked or unbanked, lack access to smartphones, or don't speak English. She also pointed out that for some people, even something as simple as requiring them to download an app to park can be a barrier to access.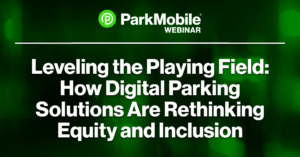 Rising Curb Competition Has a Big Impact on Accessibility Needs
As mobility ecosystems get more complex, the expectations for what services the curb should facilitate rise along with it. Those services, be it EV charging, a loading zone, or PUDOs for rideshare, don't exist in isolation and are increasingly interconnected. That added complexity makes it significantly more challenging to find a healthy balance between the goals of a parking program, stakeholder needs, and accessibility and inclusion concerns than ever before. Both Brooke and Kara were quick to note that given parking's incredibly complex accessibility and inclusion landscape, it's impossible to create one solution that perfectly fits everyone's needs.
Flexible Technologies Are Key To Modern Accessibility and Inclusion
The added flexibility and speed to market of digital parking solutions is uniquely empowering public operators and consumers with a plethora of equitable parking options. Kara demonstrated how a focus on digital parking accessibility and inclusion at ParkMobile has led to convenient features like flexible payment and device options (via text, web browser, QR code, etc), a revamped visual and UI interface for the app, and multi-language support for non english-speaking customers.
Another major advantage for parking operations is digital parking's backend flexibility when it comes to creating customized rates and policies. Kara gave an example of how digital signage can be configured to allow cities to automatically offer different rates to various groups of customers.
Collaboration is Driving More Parking Equity
Because no two locations are alike, Brooke and Kara stressed the importance of having conversations between local stakeholders, advocacy groups, solution providers, and parking operations. Combined with the proliferation of real-time parking data, curbside mapping, and other technological advances – this collaboration is leading to some unique solutions for common parking equity challenges. While showcasing ParkMobile's latest accessibility features, Kara showed some real-world examples of locations that use real-time data to let consumers customize a search for parking availability to look specifically for ADA accessible parking.
Want to Learn More?
While accessibility and inclusion is extremely important to the ParkMobile team, we are not experts. We continue to learn and grow alongside our customers and clients in an ongoing process of improvement. To hear Brooke and Kara's full discussion, you can check out the full recording here or read our article here.